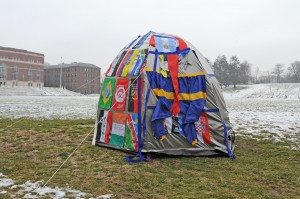 This tent was originally installed in Antarctica during Lucy and Jorge Orta's 2007 expedition No Borders. Fifty dome dwellings like this one dotted the ice to create the Antarctic Village, a symbol of the plight of those struggling to transverse borders and to gain the freedom of movement necessary to escape political and social conflict. Its placement in Antarctica was connected to the Antarctic Treaty, signed in 1959 to established freedom of scientific investigation, environmental protection, whilst also banning all military activity on the continent. 
Antarctic Village – No Borders
, is a Utopian endeavor through which the artists consider the current climate of migration.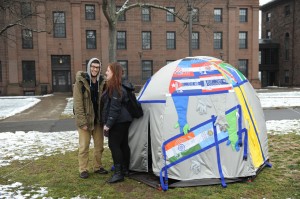 This tent was installed in front of the Usdan Univeristy Center as part of the exhibition Lucy+Jorge Orta: Food-Water-Life currently showing in Zilkha Gallery. The show explores major concerns of the 21st century: biodiversity, environmental conditions, climate change and exchange among peoples.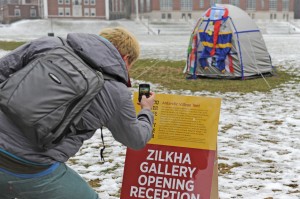 Photos courtesy of wesleyanphoto.tumblr.com